Facilities
From 24/7 Pharmacy and Laboratory services to laddered levels of patient care such as Day Care, High Dependency Unit, Intensive Care Unit to medical amenities like Blood Storage Unit and Central Sterile Supply Department, the facilities at Sree Renga Hospital grew to match the unmet needs of this geography.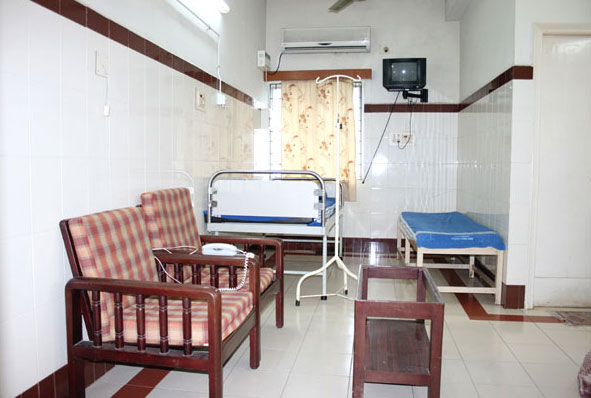 Rooms
The 47 beds at Sree Renga Hospital span across Deluxe, Private, Semi-private and Shared settings. Many of them are equipped with television and airconditioner, to suit the patient's preference and budget.

General ward accommodates 3-5 beds with a medicine cupboard. Common washroom is available.
Private room (Non AC): With an attached washroom, it is provided with a cupboard and an attender cot.
Semi private rooms: Non-airconditioned, semi private rooms with 2 - 3 beds and a common washroom.
Private room (airconditioned): Individual, air-conditioned rooms with an attached washroom. Each one has a cupboard facility, attender cot, television and telephone facilities
Deluxe room: Large, private airconditioned room provided with two cots, an attender cot, sofa, television and telephone facility.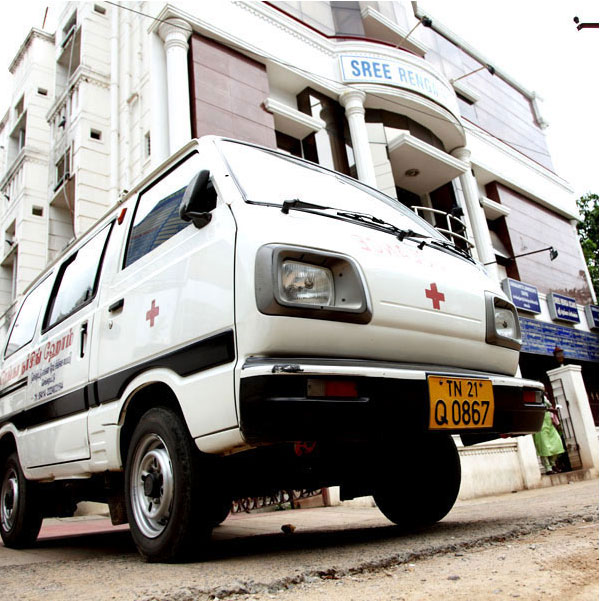 Ambulance services
Ambulance service is available round the clock in the hospital for the patients' needs.
The Ambulance has all the equipments and emergency drugs & oxygen cylinders needed for emergency cases to stabilize critically ill patients.
Ambulance services are used by patients for emergency pickup & for transporting patients after discharge from hospital.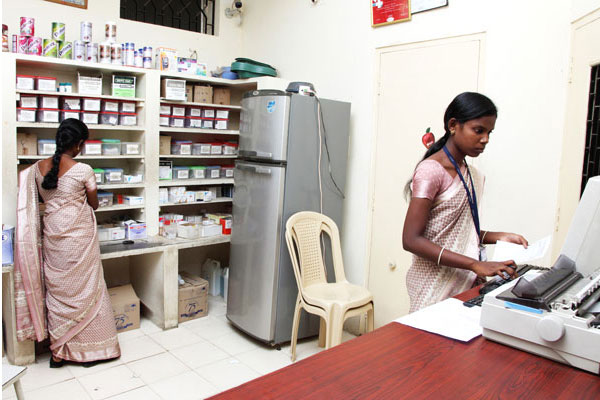 24 hours pharmacy
A well stocked 24 hours pharmacy to cater to the patient needs.
SRH Pharmacy works closely with physicians & Nurses to ensure that the medications in the pharmacy are safe & effective.
With highly skilled pharmacist & other members closely getting contact with the patient care team to provide excellent checking system of prescriptions and also check for possible interaction with other drugs.
Blood Storage
The first such facility to be operational in Chengalpattu, the blood storage unit at the hospital stocks requisite quantities of various blood groups for emergency use. Service offered in partnership with Voluntary Health Services, Chennai and is maintained and operated by lab technicians of Sree Renga Hospital.
Day Care Services
Three dedicated beds in Day Care, to look after patients not warranting an admission. Patients are seen, treated and sent home at the end of the day.
ER
Emergency & Trauma care - Trauma, Fracture, Poison, Stroke & Cardiac problems

Medical emergencies require timely and accurate intervention. Our ER is equipped with life-saving instrumentation such as centralized oxygen supply, suction apparatus and monitors and, follows a multi-disciplinary approach to provide accurate and immediate care for emergency patients.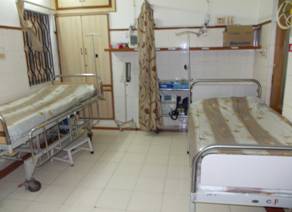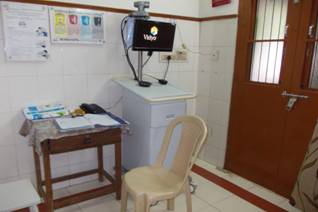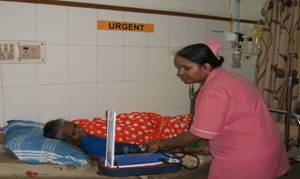 Intensive Care Unit (ICU) – powered by telemedicine
Thanks to technology, expert care and consultation of patients' conditions such as heart attack, stroke, poisoning, road traffic accidents, neurological and oncological issues, elevated blood sugar and pressure levels is only a video call away.

A new-age facility at Sree Renga Hospital, Chengalpattu puts doctors and critically ill patients in direct, live, round-the-clock videoconferencing contact with specially trained Intensive Care Specialists (Intensivists) in Chennai, over a dedicated 6 Mbps broadband connection.
High Dependency Unit (HDU)
A step-down care facility for patients requiring lesser than critical care; personal monitors, centralized oxygen supply and suction facilities provided.
Central Sterile Supply Department (CSSD)
CSSD department has well demarcated areas for washing and packing, autoclaving, sterile storage and issue counters. Supply of sterilized Instruments and dressing materials to all departments like Operation Theatre, Wards, Labour room, Dialysis etc. is done by the CSSD.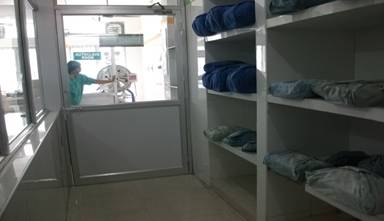 Laundry
Unsterile and sterile corridors used to get linen to and from the Laundry. Stained (blood / non-blood) are segregated, sorted, washed and dried by trained personnel
Fitness Clinic
Exercise therapy is prescribed and administered for patients with a variety of conditions: weight reduction, Obesity, Infertility, Diabetes and stress-induced conditions, by a well-trained physiotherapist. Yoga and diet counseling services are also offered to appropriate patients.