Scope of services




Preventive checkups









About us






A S S O C I A T E S
Physiotherapy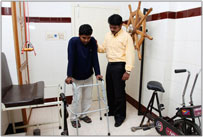 The range of treatment is tailored to patient's needs which include short wave diathermy, Exercise therapy with supervised training needs.

A well equipped physiotherapy unit with highly experienced & trained physiotherapist is available to provide the treatment for post traumatic, post surgical & work related injury, rehabilitating the patients for Outpatient & inpatient service.
Occupational Therapy – To cater to the growing needs of mentally challenged patients, especially young ones, an Occupational Therapy unit was launched. Under the supervision of a trained and experienced Occupational Therapist, patients undergo a personalised training regimen to get on the path of taking better care of their everyday activities.
Dietetics: Trained dieticians are available to advise patients regarding the appropriate diet plan. Both Out-patients, especially those with diabetes, hypertension, renal and cardiac problems and, In-patients are periodically advised based on the individual diagnostic parameters such as BMI.